Thursday, September 29, 2005
Promise to Update Soon
Sorry to any one who reads my blog (if there is anyone). I know I need to update. I need to post my photos about Ferry Beach for my artist/quilter readers and I need to post my class reunion pictures for my classmates. Right now I am rushing to finish getting packed to go to Novi, MI to vend at the American Sewing Expo. Of course I didn't have ANYTHING done before coming to the class reunion. Hey, did you REALLY think I had changed in 30 years???!!!

I promise to get the golf outing pics up when I get back.....

And be on the look out (BOL) for www.hinsdalecentral1975.org coming soon to a World Wide Web near you!!

teri
Red & White, Fight! Fight!
Hinsdale Central Class of 1975 (the last class with an open campus....gee, I wonder why???)
posted by Teri Springer @ 8:04 AM


Tuesday, September 13, 2005
This One is Susan's Fault
Found this quiz thanks to my partner in crime, er, clean, Susan at Quilt Art Quests and Quandries...



Hmmmm...

teri
posted by Teri Springer @ 7:26 PM


Sunday, September 11, 2005
Once Again...it's all Gabrielle's Fault
Great...SHE get's the Moon card and what do I get?????:



You are the Death card. Death is a stage in the
cycle of life. Without death, there would be no
room for new things to grow. When you receive
the Death card in a tarot reading, fear not;
Death is only an indication that transformation
is about to occur. Death allows us all to
evolve by removing that which is no longer
needed. The end of one cycle makes way for a
new one. Old behaviours and patterns which have
tied us down are released. Death cleans house
so that we don't have needless drains on our
energy. In Death's ruthless destruction there
lies compassion. Image from: Danielle Sylvie
Taylor
http://members.limitless.org/~morpheum/gallery.html


Which Tarot Card Are You?
brought to you by Quizilla

I will post pics of the completed charity quilt this week. It didn't sell for as much as I wanted BUT, it went to a beautiful lady I know and think highly of and she is hanging it over the head of the bed in the master bedroom at her new home in Vail.....what a compliment!!!! Thank you Nanette!!!

teri
posted by Teri Springer @ 10:08 PM


Friday, September 09, 2005
Beware Knititems on eBay
Of course I knew he would do this. I have received the following negative feedback from Mr. Furia: CHECK FRAUD LIST! SLANDERS SELLERS! BEWARE! WILL RUN YOU OUT OF EBAY! SHAME!!

Hmmm....well, first, I have no clue what this *fraud list* is. Anyone know? I sure can't find it. And, how can I be guilty of fraud- let's review: I paid $17.33 for yarn; when I received it, it was NOT what was pictured or described in the listing so I demanded a full refund (purchase price and shipping); I send the yarn back packaged exactly the same way I received it (costing me $2.44 plus the cost of delivery confirmation) and I get a refund of $11.33 after PayPal takes out their chunk. So, I am out over $8- now WHO'S GUILTY OF FRAUD???? Not to mention the man accuses me of *slander*- last I knew, to be slander it had to be verbal and untrue. Everything I have posted is true as anyone with eyes can see by looking at the pictures. Not to mention this is the FIRST negative feedback I have EVER left. And the only shame here is that eBay allows this guy to get away with this. As long as you are happy with his product he's a nice guy. But boy...if you are a dissatisfied customer he refuses to work with you, keeps the excessive shipping and handling fees (he charged me $5.35 for a package that cost him $2.44 to mail and the packaging consisted of a plastic grocery bag wrapped around the cone of thread covered with a clear plastic bag, sealed with a single piece of shipping tape and a shipping label.

So- beware. Yes, he has lots of satified customers BUT, if you are not happy with your purchase you will get no satisfaction from this nasty man.

teri
posted by Teri Springer @ 7:00 AM


Wednesday, September 07, 2005
Donations for Relocated Evacuees
Right now there are around 300 men, women and children refugees of Katrina billeted at Ft. Custer in Battle Creek, MI. They had to leave their homes with nothing but the clothes on their backs. The Galilee Baptist Church is going to be working to get these people homes, jobs and the kids into school ASAP. If you are in the Great Lakes region please send donations to:

Galilee Baptist Church, c/o Rev. J. Louis
Felton, 1216 N. Westnedge, Kalamazoo MI 49007.

They are in need of clothing, bedding, towels, personal care items, dog food, cat food and school supplies for the children. If, like me, you don't have spare cash but you do have items around your home that you are not using and that these people could use, please donate.

We hope to eventually be able to provide homes for 10,000-20,000 refugees
in Michigan over the next few weeks. In some cases these relocations will be permanent.

Thank you so much.

teri
posted by Teri Springer @ 12:25 PM


Tuesday, September 06, 2005

Do YOU believe this is the same yarn??? I sure don't.
posted by Teri Springer @ 8:23 AM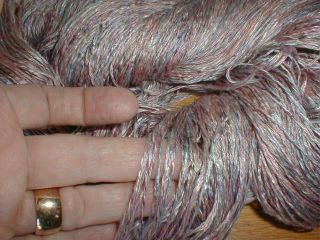 Sure looks luxurious, doesn't it??
posted by Teri Springer @ 8:22 AM



What I received. Do YOU see any resemblance other than both are very thin yarn??
posted by Teri Springer @ 8:21 AM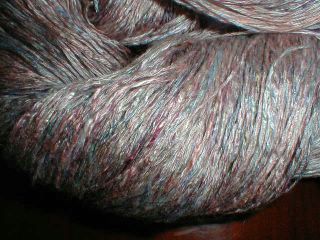 Yarn as Pictured in eBay listing- pale pastels; soft and shiny.
posted by Teri Springer @ 8:20 AM


Beware of eByer "knititems"
Sigh...yes, I am in the middle of a dispute. In August I bid on some yarns listed on eBay. One of the lots I bid on was described as:

"a beautiful 8 ounce skein (225 grams) approximately 1,000 yards Rayon multistrand yarn we call Santa Fe. Though this is a 4 ply yarn it is a fine yarn and hand knitters would likely double it and use a six or seven US needle. This is a very colorful "pastel shaded" yarn with shaded strands of pink ,light blue, and beige"

What I received was NOT pastel but muddy and ugly. The only resemblance between what I received and what was pictured was that it was a 4 ply yarn. It was dull and very irregular. I immediately emailed the seller to inform him that I was returning the yarn as it was not acceptable and I wanted a FULL refund (purchase price AND the $5.35 he charged for shipping and handling). I received a rude email informing me that I would ONLY receive a refund of the purchase price.

I filed a complaint with PayPal and again emailed the seller telling him that, since the yarn I received was NOT as represented in the listing, I was due both purchase price and shipping (but would STILL be out the return postage). He then ("he" being John Furia) stated he would refund the entire amount ONLY if, upon return of the yarn, he agreed that it was not what was pictured. Of course, when I returned the yarn, he disagreed with my assessment that the yarn was not what was described or pictured in the listing. So, now I am out over $8.00.

I wish I had checked out this guy first. He is a "power seller" with nearly 18,000 feedbacks. His rating is 98.8%. However, upon investigation I see his many negatives were exactly what my complaint is; that what the buyer received was not as advertised and that the seller refused to make good on the item. In addition, Mr. Furia blames the sellers; accusing them of lying, exaggerating and being chronic complainers. Interestingly, most of the people who filed negatives had never filed a negative against anyone else (yes, I checked).

So, now my recourse is word of mouth. Please pass the word amongst the knitting groups you are in that, while he has many satisfied customers, Mr. Furia feels no compunction to make his dissatisfied customers into satisfied ones. I have saved all of his emails and will continue to fight him through PayPal for the rest of my money. However, from what I have heard, PayPal rarely finds in favor of the buyer.

Following are 2 pictures from the listing and 2 similar pictures I took of what I received. I have not adjusted the photos of either.

So: YARN BUYERS BEWARE!!!!!!!!!!!!!!!!!
posted by Teri Springer @ 7:55 AM


Saturday, September 03, 2005
Michele Checks In
For anyone who knows her, Michele Hardy just emailed me. She and the family are fine and are in Houston. The company her DH, Greg, works for is moving them into an apartment tomorrow. Amazingly, their home survived with only minor damage but it will be weeks or even months before they can return.

Michele, I am so glad......Now, I still have Victoria to worry about.....

teri
posted by Teri Springer @ 9:34 PM


Home......At Least I Have One
I returned to Michigan from a wonderful experience at Ferry Beach in Maine (thank you Barbara Stroup for the wonderful opportunity). Ferry Beach is a UU camp founded in 1901. I was there to teach a class in beading.

But, I will get into that later. For now, has ANYONE heard from Michele Hardy or Victoria, the wonderful Vikingess?? Michele lives in Mandeville, LA very close to New Orleans and, according to Maxine Farkas (who was also at Ferry Beach teaching a wondrous book-making class) Victoria was in Mississippi. Since I am no-mail on the QuiltArt list I have no idea what is going on with these folks.

What makes me so angry is that those who want to help have been delayed in getting into the area because of the lawlessness. Declaring marshall law is one thing...however, since so many members of the US NATIONAL Guard (who are NOT guarding OUR nation thanks to Dubya) are overseas, there is not sufficient person-power to enforce this! Yes, thank you SO MUCH George.

Just like 9-11....I feel SO helpless.

teri
posted by Teri Springer @ 9:16 PM


About Me
Name: Teri Springer
Home: Chester, Nova Scotia, Canada
About Me: Studio Art Quilt Associates for the Atlantic Canada Region (New Brunswick, Newfoundland/Labrador, Nova Scotia, and Prince Edward Island). Quote:Apples and Wine: Women are like apples on trees. The best ones are at the top of the tree. Most men don't want to reach for the good ones because they are afraid of falling and getting hurt. Instead, they sometimes take the apples from the ground that aren't as good, but easy. The apples at the top think something is wrong with them, when in reality, they're amazing. They just have to wait for the right man to come along, the one who is brave enough & smart enough to climb all the way to the top of the tree. Now Men... Men are like a fine wine. They begin as grapes, and it's up to women to stomp the hell out of them until they turn into something acceptable to have dinner with.
See my complete profile
Previous Post
Archives
Links
Affiliates